Who is in your inner circle? 8 people you'll want to add…
We often underestimate the importance of the company we keep and the impact they have on our lives. Think about it: If you're trying to make a change in your life, hanging with people who support your choice makes it way easier to get there.
Want to get outside more? Hang out with people who go hiking. ⛰️
Want to be more assertive? Ask a friend to hold you accountable.🎤
Want to be more creative?  How about calling up that artist friend of yours? 🖌️
Want more money? Who is a saver in your friend group you could talk to?  
Want to drink less? Don't hang out with Frank the Tank: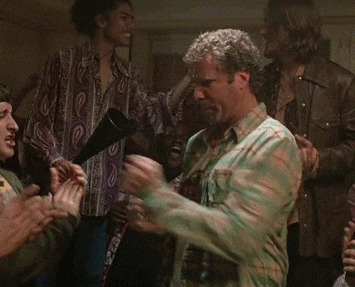 Yep. Frank has to go. Sorry Frank.
Instead of adopting the "well, this is who is around" kind of mentality – consider doing an inventory of the people in your circle and being intentional about adding more of the kind of people you want to be like.
Think about the people around you that can help open doors, give you new perspective, and connect you to the people you need to know to get to where you need to go. The point of the inventory is to find gaps so you know who you're looking for.
Here are 8 different types of people that are essential your success – in your career, business, and life.
As for the definitions for each:
1. MENTOR:  A role model, a trailblazer, a sounding board. They have experienced something you can learn from, you may share values, and you can look up to them.
2. SPONSOR:  An endorser of your character and work. A door opener. Someone who will recommend you for new opportunities. Often leads to a promotion or opportunity of value.
3. INSIDER:  They work in your current industry or the industry you are pursuing. They have "inside" information that you need to grow and make a change.
4. CONNECTOR: They know everyone. Or at least it seems that way. They enjoy introducing people to each other (bonus points: if the similarities aren't obvious).
5: COACH: They have your back. They are your mirror and your believers. They will help you create tiny habits and tiny steps, supporting you along the way. They are there when you have those "I can't do this" moments.
6. PARTNER:  An accountability buddy. They may be making the same change as you are (or it could be different.) All that really matters is you'll walk alongside one another. You'll learn and do the work together.
7. STUDENT: What's the best way to learn something? To teach it! And this is someone who is learning from you!
8. TEACHER: They have something to teach you. 🙂 
Your homework: 
1. Download a copy of the inventory worksheet here.
2. Take a few minutes and jot down the names of who is in each category currently.
3. Make note of who is missing. Who could be that person for you and how you can meet them?
You'll want to think about…
Your networking arenas:
LinkedIn
Professional groups
Meet ups
Colleagues and co-workers (inside and outside your company / industry)
Volunteer communities
Family and friends
Before you reach out, you'll want to get clear about what your intentions are. If you're unsure, reach out to me and I'd be happy to talk more about this with you. 
And hey, remember that "student" category on the inventory list? Is there someone in your network who could benefit from your support?
Consider doing this inventory once a year to start. And, then every 6 months.
You're looking at #5 right here!